3D Printing Construction Revolution
28 July 2020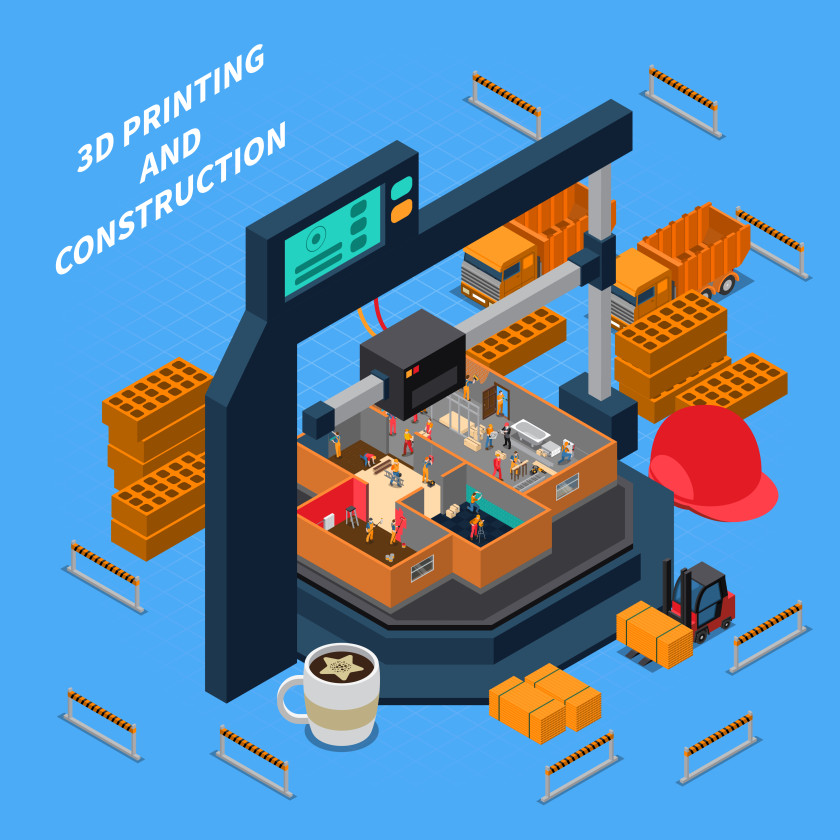 Within the construction industry, 3D printing is still an emerging technology – however an increasing number of structures around the world have been created using these methods. 3D printers are well known for printing models, toys, various specialist components – and, more recently, face masks in response to the global pandemic caused by the novel coronavirus, COVID-19. But while larger scale constructions pose unique challenges, 3D printing now represents "the future of the construction industry", according to Dr Don Samarasinghe, Senior Lecturer in Construction at Otago Polytechnic's Capable NZ.
"In about 10 years' time, the global construction industry will change. There will be increased opportunity for utilising some of today's more innovative construction technologies, including Building Information Management (BIM), off-site fabrication, and 3D printing," says Dr Don Samarasinghe
Already, the world is home to a growing number of large-scale 3D printed constructions, including a number of firsts globally – World's first 3D printed bridge in Spain, World's largest 3D printed structure in China and World's largest 3D printed building in Dubai.
How does 3D printing work in construction?
3D printers can print a range of components for use on site, and even larger-scale projects can be built almost entirely on site using huge 3D printers.
"These machines can be six metres tall, 32 metres long and 10 metres wide, with a large robotic arm," explains Dr Samarasinghe. "They are connected to a BIM model to ensure appropriate and accurate use of materials and output."
Raw materials – often concrete, polymer or sand – are fed into the machine, which is programmed in accordance with the BIM specifications. The robotic machine can then complete the main frame and structure of a building, laying foundations and building walls by printing them layer by layer. Other prefabricated elements such as windows, doors, wall coverings, interior fitting are still required, however.
These kinds of machines are not yet used in New Zealand, but countries such as China and Denmark and the United Arab Emirates have already embraced the technology. In fact, in 2016, Dubai's government developed a 3D printing strategy, with the aim that 25% off all new buildings in the city will be constructed using 3D printing technology by 2030.
Different types of 3D printing
There are three large-scale 3D printing processes used in the construction industry: Contour Crafting, D-Shape and concrete printing. Each is developed with different applications in mind, but all three methods use information from digital models to create solid, three-dimensional objects layer by layer. Together, these techniques are also known as additive manufacturing.
A UK study found all three methods of additive manufacturing have a proven ability to produce components of significant size suitable for construction and/or architectural projects – and determined that while full-scale construction using these processes is an emerging art, it will soon be a reality.
"It's a fascinating and exciting area of innovation in the construction industry, and there is great potential for it to play a significant role in the future. I can also report that it's one of the most popular subjects of learning among my Construction Management students," says Dr Don Samarasinghe
Advantages for the New Zealand construction industry
The New Zealand Government has projected that the construction industry will be valued at $43billion in 2021. Yet, it is beset by a number of substantial challenges. There are severe worker shortages and most major projects run over budget. It has high accident rates and is the country's fourth-worst industry for workplace fatalities. Additionally, construction and demolition account for up to 50% of the country's waste.
Because 3D printing technology is exact, its accuracy reduces costly and time-consuming errors, and ensures inspection processes are much faster. It also results in less wastage, potentially providing some solutions for an industry with significant sustainability challenges.
In addition, 3D printing has been shown to drastically reduce health and safety incidents on site. Together with BIM and offsite construction, 3D printing sure promises a bright future for the construction industry in NZ.
The research backs this up. One study found that the Chinese company Shanghai WinSun, which was the first to build a five-storey apartment block and a country villa using 3D printing technology, saved about 60% in building materials and shaved 30% off the time required to build compared with traditional methods. It also noted the construction team was five times smaller, which meant cost savings and a lower risk of work-related injuries.
"There is a huge initial investment involved but 3D printing can massively speed up the construction process, improve health and safety, and reduce work and waste costs, " says Dr Don Samarasinghe.
Capable NZ offers project-based learning, work-based learning and open-ended study plans in Construction Management, which can incorporate learning about technologies such as 3D printing. Capable NZ also provides professional development training within businesses and organisations on the latest in Construction Management, including 3D printing and other construction innovations. Contact us to find out more.