Benefits Of Offsite Construction
28 July 2020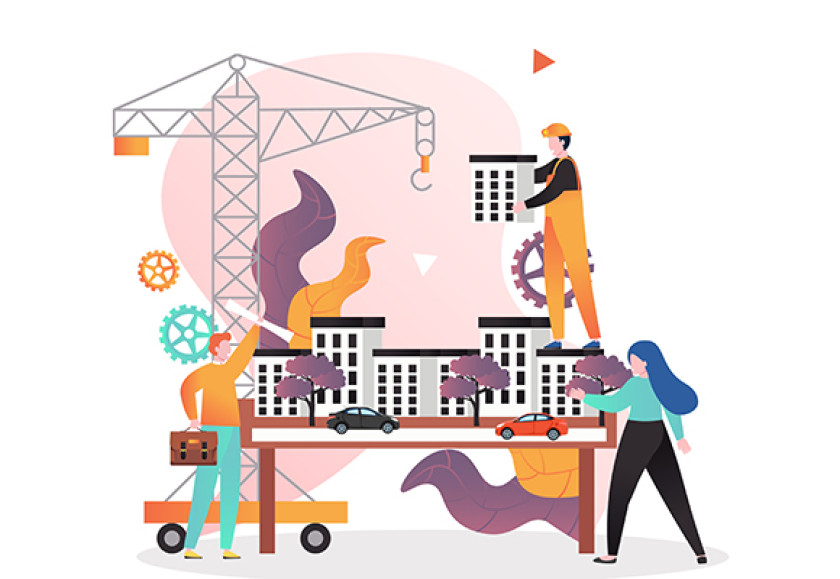 Offsite construction, or prefabrication, is becoming more prevalent in the construction industry, and for good reason. It offers many advantages over traditional on-site construction methods – which is why it's being adopted by the New Zealand Government as it looks to combat the country's housing shortage.
What is prefabrication or offsite construction?
Where traditional construction methods involve sourcing building materials and using labour to build on-site, offsite construction involves the installation of prefabricated and precast elements created in a controlled environment in which the quality of the manufacturing is monitored and regulated. In the construction industry, offsite manufacturing can vary in scale, ranging from smaller components such as windows and doors to more complicated elements, such as wall panels, slab panels, roof trusses – even complete buildings.
Adoption of Offsite Construction in China amidst COVID-19
The offsite construction approach was recently adopted in China, in the midst of its devastating COVID-19 pandemic, when it made headlines for building brand new hospitals in as few as ten days. According to CNN, this scale and speed of the construction was due to prefabrication, and large teams of workers rostered around-the-clock to install the structures.
Advantages of Offsite Construction
The advantages of offsite construction have been widely recognised. Research has shown prefabrication results in cost reduction, faster timeframes, improved building quality and consistency, better worksite safety and improved environment-friendliness and sustainability. As a result, this technology has the potential to completely transform the global construction industry.
A recent study acknowledged and expanded on some of the advantages at play:
Components or buildings can be fully assembled off-site or can require on-site assembly…In prefabrication, the structural components are manufactured in the factory, which saves the material loss and environmental pollution caused by the site construction and reduces the generation of construction waste.
Prefabricated components are assembled on-site as compared to traditional on-site construction methods, thereby saving on labour, and improving construction efficiency.
Building structural components can be directly transported to the site for installation after the factory has manufactured. No additional scaffolding is required during installation, which saves costs and reduces safety hazards.
Prefabricated components are mass-produced through industrial production, which can effectively reduce the high cost of using different shaped components in construction projects.
Prefabricated components are standardized in the factory, meaning that external factors are limited and the quality is higher than on-site manufacturing.
Dr Don Samarasinghe, Senior Lecturer in Construction at Otago Polytechnic's Capable NZ, notes that because precast elements are built in a controlled environment, they are often higher-quality components.
"Defects are minimised – for example, a concrete floor might have cracks or honeycombs or uneven levels when poured on-site. These issues must be remedied after construction, whereas components fabricated off-site can be carefully quality-controlled before even arriving on-site," says Dr Don Samarasinghe.
Offsite Construction in New Zealand
PreFab New Zealand is a non-profit organisation that informs, educates and promotes innovation and excellence in offsite design and construction in New Zealand. It champions the benefits of constructing parts (components, panels, modules or complete buildings) in a controlled environment, away from inclement weather, where worker and resource use can be closely monitored and enhanced. Its website features a collection of case studies of local projects that have incorporated offsite manufacture in New Zealand.
Challenges of Offsite Construction in New Zealand
Building contractors are considered one of the main beneficiaries of this process, however research indicates there may be a reluctance for these contractors to adopt these technologies.
A major possible challenge of offsite construction includes a high initial cost for factories and machinery required. Furthermore, pre-cast components can be expensive which can be a major turn-off for many.
Extra lead-in time needed at the design-stage to ensure a smooth and accurate construction process is yet another barrier for offsite construction. Though innovative BIM technologies are a natural fit at this stage of this process!
Limited production capacity at New Zealand manufacturing factories is another challenge for an industry looking to increase reliance on prefabricated building components.
Logistics are also an issue, with some prefabricated components requiring strong cranes to install.
The research also notes, "China International Marine Containers Group (CIMC)…has worked on several modular construction projects in the United Kingdom and Australia. More than two years after entering New Zealand, CIMC Modular believes that current New Zealand modular buildings are still in the early stages of cultivation…from local governments to end users, the extent of local acceptance and recognition of modular buildings is still relatively low".
New Zealand's KiwiBuild Programme
These technologies are increasingly being accepted, recognised and adopted by the industry – even, notably, by the New Zealand Government. It has recognised that off-site manufacturing can play a major role in the country's housing crisis. In a media statement released late 2019, Housing Minister Megan Woods said the Government needed to find ways to get houses built more quickly.
Offsite manufacturing has the potential to transform the building sector and drive innovative ways to build homes at a lower cost, and in faster timeframes. It can significantly change the way we build homes because builders won't have to contend with external elements like the weather", says Megan Woods, Housing Minister.
She also stated that Housing New Zealand believed offsite manufactured new builds could be delivered in half the time as conventional builds.
"The scale of the KiwiBuild programme, especially when aligned with the other arms of the Government's build programme, creates a fantastic opportunity to supercharge the use of offsite manufacturing in New Zealand. The demand these programmes create has the potential for the construction and development industry to make confident investments in their people and new technology. It could play an important role in smoothing out the 'boom-bust' cycle that has plagued the sector in the past and help prevent another housing shortage emerging in the future," says Megan Woods, Housing Minister.
Capable NZ offers project-based learning, work-based learning and open-ended study plans in Construction Management, which can incorporate learning about technologies such as BIM. Capable NZ also provides professional development training within businesses and organisations on the latest in Construction Management, including BIM. Contact us to find out more.