Virtual Reality And Construction
28 July 2020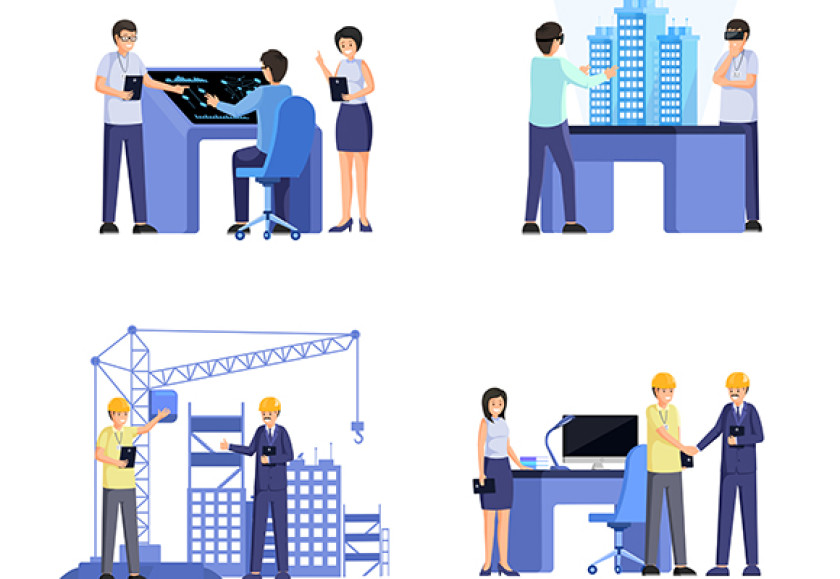 Virtual reality technology offers immersive simulated experiences that have revolutionised training in a variety of sectors with elevated health and safety risks, including medicine and the military – and it has the potential to do the same for construction.
The construction industry is known for being particularly hazardous. In New Zealand in 2018, there were a total of 51,000 ACC claims for construction injuries, at an estimated cost of $133 million. And in 2019, the local industry experienced its highest fatality rate in a decade, with 13 deaths.
Because construction practitioners are subject to considerable health and safety risks, efforts to mitigate these are a priority sector-wide.
Virtual Reality and Training
Senior Lecturer in Construction at Otago Polytechnic's Capable NZ, Dr Don Samarasinghe, says Virtual Reality (VR) can help teach people how to avoid and respond to hazardous situations, minimising the potential for harm.
"For example, in the event of a fire, most people have never used a fire extinguisher before. VR allows them to walk through that process step-by-step, in effect practising and experiencing it. We can use virtual sites and situations to deliver preliminary training to people before they operate potentially dangerous machinery and tools – and this has the potential to prevent many incidents," says Dr Don Samarasinghe.
Another advantage is that VR provides practitioners and students the opportunity to virtually visit buildings or sites that would otherwise be inaccessible due to privacy reasons, health and safety restrictions, or a lack of local examples of a particular type of building, structure or practice.
"Even when we are able to undertake site visits with our learners, these require regulation compliance, correct personal protective equipment (PPE), and close monitoring," says Dr Samarasinghe. "But VR can show them, without any risk, how heavy construction activities occur – such as using tower cranes to install pre-cast concrete slabs." He notes that for Construction Management students, there can be a gap between their learning and trade knowledge – the way tradespeople operate on site.
"When Construction Management graduates arrive to manage a site, it can be difficult for them to know the ins and outs of these practices. Virtual reality is a great way to gain a closer understanding of what is involved at site-level and how tradespeople put things together. For example, building a reinforced brick wall – in 3D scale, they can see the proportion of materials required, the correct positions, spacing, dimensions, specifications, and so on," says Dr Don Samarasinghe
Role of VR in New Zealand's construction industry
There are many opportunities to apply this technology to great effect within the industry. And, with the availability of affordable head-mounted VR devices, the technology has never been more accessible. "The technology is there – it is simply a matter of harnessing it," Dr Samarasinghe says.
Virtual reality is already proving to be a highly effective method for safety training in construction globally, according to BRANZ Build Magazine. It reports that Hong Kong-based Gammon Construction employees rate VR training more highly than a traditional lecture-based approach. The company's safety manager is quoted as saying VR has boosted on-site safety and is moving the business closer to its zero-harm goal.
Another benefit of VR is it has a far lower ecological footprint than traditional forms of training. It is a great choice in the interests of environmental sustainability because all materials are simulated, and there is no requirement to consume resources such as building materials, electricity, transportation and water in training.
And while VR is still an emerging technology for New Zealand construction firms, there is one notable exception. Fulton Hogan was a finalist in both the 2017 New Zealand Innovation Awards and the 2018 NZ CIO Awards for using VR to train employees in its boil out procedure for decontaminating bitumen sprayers – the first time VR had been used in the New Zealand construction industry.
The New Zealand government is getting on board as well, recently conducting a pilot programme using VR to prepare people for jobs in the construction industry. The technology was developed in partnership with business groups and industry to ensure it met the needs of employers.
"This government is committed to upskilling and preparing people on benefits so they can access jobs in industries where there are shortages, like Construction. The experience of doing a particular activity in virtual reality is an effective way of practising some crucial skills required for the job safely and in a cost-effective way, " says Carmel Sepuloni, Minister of Social Development.
She added that employers win, too, because they can quickly see if a potential employee has the right skills before hiring them. In 2019, the engineering consultancy, Beca, received an ACC workplace injury prevention grant to develop a VR solution to combat the industry-wide issues of health and safety by developing an immersive VR module to improve construction site inductions. In announcing the grant, ACC noted that the use of VR in the construction industry will help prepare workers before they step foot on-site and could lead to a much-needed reduction in injuries in the sector.
Advantages of VR for clients
VR works well with Building Information Modeling (BIM) systems. The virtual models within BIM can be translated to VR, allowing clients to see the finished product, or specific aspects of a design or build. They can feel and experience the virtual environment and gain a more realised sense of how a project will look when complete.
This technology is put to effective use in the BBC television show, Your Home Made Perfect. The programme uses VR headsets and visual effects to simulate the outcomes of two competing architects' designs for a home renovation. These inform the clients as they choose their preferred option.
"It can often be difficult for clients to visualise the intended outcomes," explains Dr Samarasinghe. "Virtual reality is a wonderful communication aid that can bring a project to life in their minds."
And, it is a persuasive technology that can play a role in showcasing emerging or underutilised construction techniques. With this in mind, Dr Samarasinghe and two of his colleagues undertook some research in a bid to promote earth building through VR.
Earth building is a 11,000-year-old practice of architecture using unfired earth material, and some of the oldest of wonders of the world have been constructed this way, including the Great Wall of China. While some of New Zealand's historic buildings feature this method of construction, fewer than 1% of buildings in this country are real earth buildings.
"Because of this, few people can experience them first-hand, so we wanted to promote awareness of this sustainable practice by featuring earth building on VR technology," Dr Samarasinghe explains. "We designed a model by which we could present a building with earth walls, rainwater harvesting tank, dry toilet, solar panels and a green wall."
The technology was presented to the public at the Auckland Building Expo, where a majority of viewers expressed favourable responses about the realism of the experience. One noted, "It looked real to me, and I felt like I was walking inside the rooms."
Capable NZ offers project-based learning, work-based learning and open-ended study plans in Construction Management, which can incorporate learning about technologies such as virtual reality. Capable NZ also provides professional development training within businesses and organisations on the latest in Construction Management, including virtual reality and other construction innovations. Contact us to find out more.