Benefits of Blockchain Technology
28 July 2020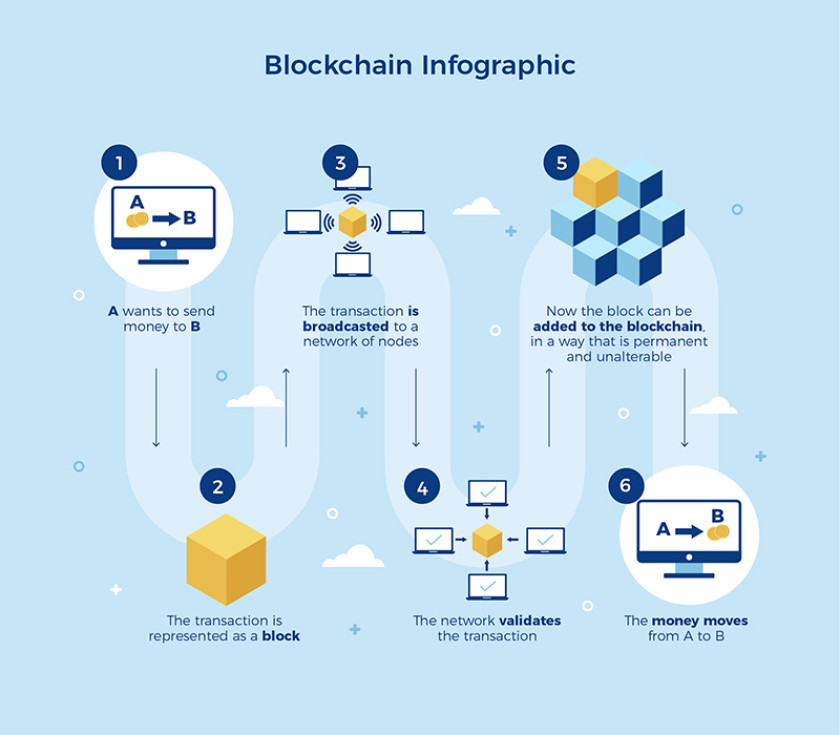 Blockchain technology presents the construction industry with a way to maintain cash flow, save time and cut costs – it bypasses banks to speed up international and domestic payment processes, limiting transaction delays and errors, and reducing the risk of hacking and fraud.
Blockchain – also known as Distributed Ledger Technology (DLT) is a digital system that uses a virtual currency, like Bitcoin, to establish private and secure groups within which money can be exchanged and tracked. These networks are wholly transparent and operate as circles of trust – everyone within the group can see every transaction and who authorised it.
Each private network has its own passcode, and each individual within the network has their own passcode as well. All transactions require the entry of these passcodes for authorisation, and all are logged and visible for all group members to see. Cryptography ensures transactions are protected and payment is secure.
Blockchain is popular in a range of industries with complex supply chains and those involving a range of international parties, such as transport and logistics, finance and manufacturing.
Blockchain and construction
Many construction projects have long supply chains, requiring a large number of parties to work together – including the client, advisors, local government and permitting authorities, a head contractor and a range of subcontractors. Typically, transactions between these parties can be inefficient and fraught with difficulties, including invoice errors, payment errors, bank holidays, and currency conversion fees and variations.
When such payment issues arise, the head contractor will find it difficult to pay the subcontractors, which can result in insolvencies, delays and increased costs.
A recent study outlined why cash flow is so essential for construction businesses:
"Construction activities take a long time, the products are expensive and the fact that payments are usually made for work already done, makes cash flow and financial status highly dependent on timely payments from the principals. Cash flow constraints of contractors not only result in business failures but also create flow-on effects in the supply chain, " says Ramachandra, Thanuja
Capable NZ's Senior Lecturer in Construction, Dr Don Samarasinghe, says inserting virtual currency into a project network via blockchain can solve – or at least mitigate – all of these challenges.
"For this reason, blockchain has the potential to speed up construction projects, minimise project delays and save the industry significant amounts of money," he says.
While the New Zealand construction industry has not yet embraced blockchain, there is evidence it is becoming a desirable way to pay overseas. The United Arab Emirates, known for its innovative construction sector, is keen to implement blockchain more widely. The industry loses the equivalent of many millions of dollars each year through payment errors and processing delays, which causes negative flow-on effects, including project delays and cost overruns. The country's rulers believe investing in blockchain will help prevent these financial losses.
"In addition, a considerable amount information can be stored and tracked in blockchain, so project progress can be checked by everyone involved. If something goes wrong, it is simple to trace back to find out where the problem arose. Walmart uses this technology to manage its supply chain including manufacturing, logistics and transportation. For example, if a product is damaged, the history of information stored within blockchain can isolate where the issue occurred," says Dr Don Samarasinghe.
Blockchain and BIM
Building Information Modelling (BIM) systems and blockchain can work well together, as both are centralised models of information storage and sharing. Finances can be incorporated within BIM models, so this data can be tracked along with all other elements of a construction project.
As the UK's Institute of Civil Engineers noted in a recent report, centralised record-keeping is a major benefit of blockchain: "One of the key advantages of such a platform, apart from being very effective, is the high level of transparency for all parties involved. For capital construction projects, complex contracts, terms and conditions are often applied. Through the whole lifecycle of a project it can be a challenge to ensure collaboration on every level between all the parties according to the contract. With such a system and applied smart contracts it can be ensured, that every action always happens according to the agreed terms."
The report also emphasises the far-reaching consequences of payment issues in construction sector. "Late payments and the relating cash flow issues have been enduring problems in the construction industry. According to the recent Euler Hermes Quarterly Overdue Payments Report, the average payment time for construction companies and SMEs (Small and Medium-sized Enterprises) became 82 days. They could sometimes even rise as high as up to 120 days. Such practice can easily put the whole supply chain at risk."
Capable NZ offers project-based learning, work-based learning and open-ended study plans in Construction Management, which can incorporate learning about technologies such as blockchain. Capable NZ also provides professional development training within businesses and organisations on the latest in Construction Management, including blockchain and other construction innovations. Contact us to learn more.